My Disney Blogs
---
by Susan Kennedy (27 Dec 2008 00:09; last edited on 27 Dec 2008 00:09)
---
by Susan Kennedy (07 Dec 2008 02:42; last edited on 09 Dec 2008 01:29)
According to Market Watch Robert Iger (CEO of Disney) is up for CEO of the year for 2008.
The CEOs are chosen on the basis of their company's stock market and financial performances compared to their own industry groups and all large companies traded on US markets. Only firms with market caps of over $5 billion were considered. 24/7 reviewed revenue growth, operating margins, balance sheets, return on assets, and return on equity.
Iger has done quite a job turning the company around after Eisner. At least the board of directors definitely things so:
In this article "Disney Eager on Iger", it explained the Iger, at the beginning of this year, has already been signed for a five year contract with Disney to stay on as CEO.
I am glad that Disney is going to have a consistent CEO that does such an excellent job balancing all the companies franchises!
---
by Susan Kennedy (06 Dec 2008 04:54; last edited on 06 Dec 2008 05:58)
December 5th, 2008
Today marks Walt Disney's birthday. Thank you Walt for your optimism and inspiration.
The film that I think best plays tribute to his life is Meet the Robinsons, especially this ending clip:
If you havn't seen it I strongly recommend it :) It always makes me cry…
---
by Susan Kennedy (05 Dec 2008 02:32; last edited on 05 Dec 2008 02:55)
December 4th, 2008
Main Characters Casted
Jay Burachel (who was recently in Tropic Thunder) is going to casted as the main role in Disney's upcoming live action movie The Sourcerers Apprentice. The Sorcerer will be played by Nicolas Cage. In case you don't know what movie I am talking about…
"'Sorcerer' is being envisioned as a tentpole fantasy adventure set in contemporary New York, where a powerful sorcerer is in need of an apprentice. While not based on a ride like the 'Pirates of the Caribbean' films, the in-development project continues Disney's trend of reimagining classic Disney titles as live-action, event pictures."
I am excited that Disney has a new live action movie. They did a great job many of the recent ones, like Pirates, so I can only image that this production will be amazing. I really don't know much about Jay as an actor but I can image that the combo with Cage will be awesome, especially because Jerry Bruckheimer is directing it!
---
by Susan Kennedy (03 Dec 2008 22:14; last edited on 04 Dec 2008 17:29)
December 3rd, 2008
Disney's new project for strait to video films, pixie hollow, is underway.
This is an interesting concept…instead of adding sequels to their classics, like The Lion King and Beauty and the Beast, they are going in a completely different direction. Perhaps it has something to with the fact that Steve Jobs called their sequels "embarrassing" …
According to Animated News and Views Forum this will be the release schedule for upcoming the upcoming Tinkerbell series:
Autumn - Winter 2008
• Walt Disney Pictures release of Tinker Bell on
DVD & Blu-ray.
• Tinker Bell will debut on television on Disney
Channel in Holiday 2008, or prior to DVD release
in certain markets.
Autumn - Winter 2009
• Walt Disney Pictures release of Tinker Bell and the
Lost Treasure on DVD & Blu-ray.
Autumn - Winter 2010
• Walt Disney Pictures release of Tinker Bell –
Midsummer Storm on DVD & Blu-ray.
Autumn - Winter 2011
• Walt Disney Pictures release of Tinker Bell –
A Winter's Tale on DVD & Blu-ray
Here is the upcoming trailer for Tinker Bell and the Lost Treasure:
Well this is sure to get young girls every where excited and hopefully not compromise Disney's larger image. Good move Disney.
---
by Susan Kennedy (02 Dec 2008 22:01; last edited on 03 Dec 2008 03:12)
December 2nd, 2008
Today is the Release of Prince Caspian on DVD.
This could make a big difference on Disney's entire production of the series. As of early November, Disney still had not given the green light for the next film…basically because the Prince Caspian didn't bring in nearly enough revenue is Disney was planning on.
Producer Mark Johnson had said this year:
"Right now, we have no plans to go beyond 'The Voyage of the Dawn Treader.' If (that movie is) successful, I'd love to do 'The Silver Chair' after that." To be blunt, Johnson put the onus back on the "Narnia" audience. Saying that " … as long as you keep embracing these movies, we'll make all seven." With the unsaid part of this statement being "If you guys don't turn out in sufficient number for 'The Voyage of the Dawn Treader' in 2010, the series stops there."
Apparently, this wouldn't bother Corporate Disney all that much. According to Jim Hill's Blog:
… Well, certain members of the current Mouse House management team view the "Chronicles of Narnia" as an Eisner legacy. A holdover from the bad old days when Michael — back when he was battling with Roy over the whole "Save Disney" movement and seemingly on the brink of letting Pixar slip away — needed some sort of good news to share with Disney stockholders. Which is why — given that the Mouse House (at that time, anyway) lacked its own hugely popular movie series like "Harry Potter" and/or "Lord of the Rings" — Eisner was eager to get into bed with Phil Anschutz's Walden Media in order to make "The Chronicles of Narnia: The Lion, the Witch and the Wardrobe." With the hope that this pricey production might then be the springboard to a whole new film franchise. But that was 2004. And this is 2008, with Michael Eisner gone and Pixar now a wholly-owned subsidiary of The Walt Disney Company. And given that Mickey now has a hugely popular film franchise of his very own (i.e. the "Pirates of the Caribbean" movies) … Pushing ahead with production of all seven of the "Narnia" movies doesn't seem like such a smart move anymore. Particularly if "The Voyage of the Dawn Treader" winds up earning less than "Prince Caspian" did this past summer.
Basically, it seems like if sales don't go that well for the DVD sale today then Disney may not have long term plans for Narnia. If you are huge fan…I suggest you go buy as much as you can and tell all your friends too !!
---
by Susan Kennedy (02 Dec 2008 04:20; last edited on 04 Dec 2008 17:33)
December 1st, 2008
Disney Gets Lots of Nominations for the 36th Annual Annie Awards
The Annie Awards are the most prestigous award for animation. This years Annie Awards will be January 30th, 2009. According to Wikipedia:
The Annie Awards is presented by the Los Angeles, California branch of the International Animated Film Association, ASIFA-Hollywood since 1972. Originally designed to celebrate lifetime or career contributions to animation in the fields of producing, directing, animation, design, writing, voice acting, sound and sound effects, etc., in 1992 it began to honor animation as a whole, and created the category of Best Animated Feature.
Disney's top was 2nd and 3rd for total nominations with Bolt (9) and Wall-e (8.) Another Disney production, a short film called Glago's Guest, also won big recognition in the short film category. The list is really long but be sure to check it out on The Animation Blog .
Yay for Disney/Pixar !! Bolt was a very key production as it was the first production from the Pixar/Disney team. I am so glad it is getting such great recognition. Hopefully this is a sign of great more things to come from Disney from this point on…it would be great if Disney could turn its image around :)
Be sure to check out this clip of Glago's Guest:
---
by Susan Kennedy (01 Dec 2008 16:58; last edited on 02 Dec 2008 22:43)
December 1st, 2008
Museum Exhibit on the Chronicles of Narnia
In USA Today they announced that Walt Disney Pictures, along with Walden Media, is putting on a museum exhibit based off of the C.S. Lewis's Chronicles of Narnia at the Franklin Institute in Philadelphia. It opened Friday and will be open up until April 19th. It is supposed to be a way to celebrate reading, while still being entertaining.
According to the article:
Upon entering the exhibit, visitors pass through a re-creation of Lewis' study, complete with the author's childhood drawings of ''Animal-Land,'' an early Narnia prototype, before being ushered into a small, wood-paneled room with an enormous ''wardrobe'' (actually, big, fancy carved doors). A narrator sets up the story, then bam: The door swing open to reveal falling snow, cascading onto the pine trees just past the clothing racks.
The rest of the exhibit seems to continue with hands-on rooms related to specific events within the book. For this reason, it is highly recommended that you read the book or see the movie prior to going to exhibit. Another refreshing part of the exhibit, as opposed to typical Disney entertainment, is that it includes education aspects into the exhibit:
As children learn about the forests and animals of Narnia, they'll also learn about the dangers of global warming and deforestation, as well as how critters communicate.
I think this is awesome. Disney is celebrating the roots of one of its movies and encouraging kids to stay in touch with literature despite being in the age of technology. I wish that Disney would do more to celebrate the educational base behind its films…especially since more and more of their films are based on books. For example, their should be an exhibit on the true origins of the Lion King Story (see my blog entry). Or something less controversial. Either way, I like seeing that Disney is taking advantage of that fact that it has a huge influence on the minds of todays youth.
---
by Susan Kennedy (01 Dec 2008 16:13; last edited on 02 Dec 2008 04:12)
December 1st, 2008
Big Weekend at the Box Office
Hope your holiday weekend treated you well :) It certainly treated the Box Office well! According to CBS this was the second biggest revenue grossing Thanksgiving weekend in history:
1. "Four Christmases," $46.7 million.
2. "Twilight," $39.5 million.
3. "Bolt," $36.0 million.
4. "Quantum of Solace," $28.1 million.
5. "Australia," $20 million.
6. "Madagascar: Escape 2 Africa," $19.6 million.
7. "Transporter 3," $18.5 million.
8. "Role Models," $7.8 million.
9. "The Boy in the Striped Pajamas," $2.2 million.
10. "Milk," $1.9 million.
Bolt is doing strong, though some estimates as of Sunday has said that Bolt would surpass Twilight :( Even so, I would guess that as the Holidays approach Bolt will continue to get lots of viewers as kids get done with school and need ways to spend their free time.
"Twilight' is still a phenomenon, but you can't really maintain that level of intensity week after week," said Paul Dergarabedian, president of box-office tracker Media By Numbers.
Hopefully the next few weekends will be even better for Bolt !!
Four Christmases was released this weekend as one of the only holiday related films of the weekend. This is part of the reason Four Chrismases did so well— it virtually had no competition. This will change in the upcoming weeks with the release of Nothing Like the Holidays on December 12th.
The next few weeks will prove interesting for Hollywood….I am excited to see how everything develops!
---
by Susan Kennedy (30 Nov 2008 23:37; last edited on 30 Nov 2008 23:56)
November 30th, 2008
An article from Laughing Place reminded me that there is a 70th Anniversary edition of Pinocchio that was released. Even though home video isn't quite the focus of this site, this was definitely one of the key movies in Disney's origins.
Pinocchio was Walt Disney's second animated feature and featured vibrant hand drawn animation and amazing music like the Academy Award® winning song "When You Wish upon a Star." Its story became an instant classic and the characters of Pinocchio, Geppetto the puppet maker, the Blue Fairy and Jiminy Cricket.
Pinocchio has never been one of my favorite Disney movies…but that could just be because Jiminy Cricket was the character that they used in my "Safety Town" videos that had to watch as a kid :) Regardless of my opinion, it still has been a very critical movie in Disney's history and you should make sure you see it at some point !!
Suggested Resource:
---
by Susan Kennedy (30 Nov 2008 21:14; last edited on 02 Dec 2008 13:35)
November 30th, 2008
This is an extended trailer about how bedtime stories that Adam Sandler tells to his nephews start to come true in his real life…
—-Comes out Christmas Day !
It looks funny, but I also worry that it won't be funny for people over the age of 15 :( I could be wrong…sometimes trailers look a lot worse than the film is.
---
by Susan Kennedy (29 Nov 2008 20:06; last edited on 29 Nov 2008 20:20)
November 29, 2008
According to Magic Mountain Johnny Depp is going to get approx. $56,000,000 for Pirates of the Caribbean Four.
Johnny Depp apparently and loves the films and his character Jack Sparrow:
"Doing the Pirates movies has been an absolute blast," he says.
"I'm the luckiest guy in the world to have had such a great experience. If I walk away from Jack now, I'll walk away with some amazing memories. But At World's End leaves open the possibility of a fourth or fifth movie, which I wouldn't be opposed to on an actor level because I feel there is a lot more territory to explore with Captain Jack."
"I've never really felt I'm done with playing the character, so why shouldn't we try a fourth and a fifth?"
And even though Jack Sparrow really does make the movie, $56M is an enormous amount of money. I'm sure Disney will do a good job with it though (at least I hope !) :)
---
by Susan Kennedy (29 Nov 2008 16:48; last edited on 29 Nov 2008 20:24)
November 29th, 2008
Hope you are having a great holiday !!
There is not much going on for Disney Pictures today :(
You should check out these awesome Podcasts from Laughing Place.com (pretty much the main fan-based Disney Blog). Even though their Podcasts cover lots on non-movie related news, I skimmed through and highlighted only the movie related news.
On Disney's pairing its next five movies with IMAX 3-D (starting with Christmas Carol), they seemed to believe that Disney might be overdoing its use of IMAX so that it is not as exciting anymore. Some other candidates for IMAX, which might
The Beauty and the Beast re-make will be out in 2010 and will be in IMAX (3-D). The producer of the new Beauty and the Beast, Don Hahn and co-directors Kirk Wise and Gary Trousdale, and Sara Duran-Singer, used to work for Disney and then moved on to do work for Dreamworks. By working on a Disney film again, they wondered that Disney might be interested in bringing some of the same producers back.
On another note, If you are big on cruises, the Disney Cruise Line will feature a 3-D IMAX theater in order to accommodate the Beauty and the Beast film.
About Disney's finance info for the year end, which were down from the prior Q3. They are performing better than the industry, but compared with the larger economy they are not doing as well. The conscensus is that they OK, but Iger's forcast sounded pessimistic for the next year:
"This is clearly a difficult and unpredictable time and while our businesses aren't immune, the strength of our assets, brands, and management team positions us well for the long term."
The Tinkerbell movie came out on DVD…seemed to be interesting take on the most "sexualized character" in Disney and will develop into a series. Also, High School Musical 3 came out, which seems to have a lot less audience participation. However, there will be a "High School Music 3 Nation-Wide Sing Along" which will come to about 25 theaters.
---
by Susan Kennedy (29 Nov 2008 00:31; last edited on 02 Dec 2008 13:31)
November 28, 2008
This isn't exactly a "Walt Disney Film" but this is one of the subsidiaries Companies of Disney….
According to Daylife's Miramax Blog:
Miramax Films is a film production and distribution brand that was a leading independent film motion picture distribution and production company headquartered in New York City before it was acquired by The Walt Disney Company. Miramax was considered an important quasi-independent studio for many years after the Disney purchase.
Seems to be a retro-based comedy about a high schooler who can't get even the lowest of jobs except for one at 'Adventureland.' This theme park job is supposed to be the worst job ever…I get the impression Adventureland is all about self-discovery and growing up and such….I just hope it has some original content and doesn't seem too similar to Superbad. It am also interested to see how the characters play ou most of which are relatively new actors: Kristen Stewart (in "Twilight" as Bella), Ryan Reynolds, Kristen Wiig, Bill Hader and Martin Starr.
…Comes out March 27, 2009 :)
Suggested Resources:
---
by Susan Kennedy (24 Nov 2008 22:26; last edited on 29 Nov 2008 01:36)
November 24th, 2008
Despite all of the effort that Disney has put into its animation teams in order to improve their animated films, Disney had a disappointing weekend at the box office with Bolt this weekend.
This Weekend's Box Office Winners
Twilight, a movie based on a book about vampires with a large pre-teen base, stole the show:
1. Twilight -> Total Gross: $69,637,740
2. James Bond -> Weekend Gross: $26,707,945
3. Bolt -> Weekend $26,233,128
Timing Issues
The Disney Blog blames Disney's loss on timing, not on quality of the film:
When Harry Potter and the Half Blood Prince backed off November 21, 2008 to July 2009, Disney moved up the release of BOLT! one week to fill that slot. Obviously Disney thought they'd pick up all those young 'tweens' who are so valuable at the box office since they bring their parents and friends with them…As it turns out Walt Disney Animation Studios wasn't the only company to have that idea; a little studio called Summit moved the release of its Twilight property from mid-Decmeber to the same weekend. Now Disney and Summit were competing head to head for the same 'tweens' audience.
Others seem to think the movie isn't different enough from other Dog movies that Disney has come out with. The Bolt review from the Wall Street Journal, described the movie as being uninspiring and not life changing.
Regardless, Disney representatives are optimistic that word of mouth will help out Bolt going into the holiday season. Hopefully… :)
Suggest Resources:
The Disney Blog's Bolt Sucked Dry
Box Office Mojo
---
by Susan Kennedy (22 Nov 2008 17:47; last edited on 29 Nov 2008 01:38)
November 22, 2008
Sorry that I am really behind the times, considering The Lion King came out in 1994. I was recently thinking about this because I just found my soundtrack from the Broadway play.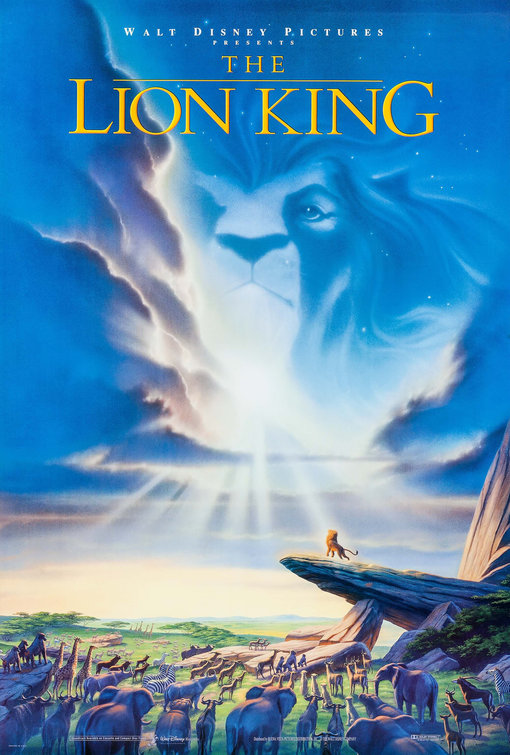 Apparently, Disney adapted a story that from Mali. The story the Disney tells leaves much of the important points from the original story. The original story had little to do with actual lions, even though Sundjata (also known as Sundiata) was know as "The Lion King."
Check out this movie below to get an idea of the real story:
The disturbing thing about this isn't that Disney borrowed and adapted an existing story. It's that they didn't give credit or acknowledge the original story in the credits of the film. All it would take is small paragraph explaining where the story came from. Instead Disney simply took what they could from it and portrayed the work as their own creation. It wouldn't be that big of deal of the story originated in the United States. But because it originated in Mali, it comes off extremely greedy and unethical.
This, sadly, can be one of the downsides of capitalism and those companies that succeed extremely well in it. It makes me extra sad because the is always an aura of innocence and purity I associate with Disney…mainly because it was so important to me in my childhood. I hope that this isn't a regular pattern of Disney Pictures :(
Suggested Articles:
---
by Susan Kennedy (20 Nov 2008 05:01; last edited on 29 Nov 2008 01:39)
November 20th, 2008
A November 19th article in Market Watch explained the Disney Pictures has agreed to release 5 films through IMAX. IMAX is a 3-D style cinema. According to Market Watch:
The 3-D style is sought by movie studios and theater owners because these kinds of flicks can fulfill a marketer's dream: young, enthusiastic crowds which are willing to pay higher-than-usual ticket prices for the dazzling technology.
IMAX's stocks have been falling lately and this agreement is supposed to give them a boost. Even though Disney just recently released Bolt in 3-D, the will be an additional five films in the future using this technology. The first of which is A Christmas Carol, which comes out during the holiday season of next year.
My only worry about this agreement is whether it will reduce the perceived quality of Disney films. If most of Disney's films have the 3-D features, perhaps they will feel less special to views and 3-D will come to be a feature that viewers expect. If 3-D is not done properly, viewers become can be underwhelmed by the entire film. 3-D needs to be an asset to the existing film, not a cheap way to get viewers in the door. If viewers don't appreciate the 3-D experience, they will have no incentive to see the film again or rent it when it comes out on video. I think Disney should be more cautious with which films are in 3-D.
---
by Susan Kennedy (20 Nov 2008 04:41; last edited on 24 Nov 2008 22:19)
November 19, 2008
According to the November 18th, weekend box office statistics from Show Biz Data, these are the top five grossing films:
Current Box Office Figures
Thtrs: 3451 / Gross: $4.05M
Total: $75.73M
Thtrs: 4065 / Gross: $1.19M
Total: $119.26M
Thtrs: 2798 / Gross: $0.88M
Total: $39.27M
Thtrs: 1896 / Gross: $0.38M
Total: $28.31M
Thtrs: 2210 / Gross: $0.33M
Total: $27.09M
Though Disney's not on there yet, get excited for this weekend !!!! Disney has Bolt coming out this weekend and lot of others as the holiday season approaches.
Disney's Outlook
Most of these films don't directly compete with Disney's market, except for Madagascar. I am curious to see what Bolt, which comes out this Friday, will gross at the Box office. Bolt has tough competition as another family-targeted movie, Twilight also comes out this weekend. Both Twilight and Bolt are expected to gross over $40 Million, though it will be a close race to see who comes in front Additionally, movies like High School Musical 3 and Madagascar will continue to be in theaters, adding to Disney's competition.
Although it's gonna be close, my guess is the Disney is gonna come out on top because Bolt will have the awesome 3-D element :)
---
by Susan Kennedy (20 Nov 2008 03:45; last edited on 24 Nov 2008 22:12)
November 19th, 2008
While looking up Walt Disney's famous I found this quote:
"I only hope that we don't lose sight of one thing - that it was all started by a mouse." — Walt Disney
…Sadly, I missed Mickey's birthday yesterday :(
November 18th, 2008 marked the mouse's 80th birthday!!!
"He popped out of my mind onto a drawing pad 20 years ago on a train ride from Manhattan to Hollywood at a time when business fortunes of my brother Roy and myself were at lowest ebb and disaster seemed right around the corner." — Walt Disney
When you get a free moment, check out this cool photo gallery of Mickey through the years. Hopefully, this week you can do something fun to celebrate this week. I personally am gonna go see Bolt this Friday when it comes out :)
---
by Susan Kennedy (17 Nov 2008 07:05; last edited on 29 Nov 2008 01:41)
November 17th, 2008
Rhino Steals the Show
Here is an awesome article in the New York Times November 14th Edition about Mark Walton.
Although most of Disney's animated films typically feature well known celebrity voices, Mark Walton is a Disney animator who was cast for the part of Rhino, an overweight, television-obsessed hamster in the movie Bolt.
Bolt is Disney's latest film, which COMES OUT FRIDAY!!!
It is basically is about a dog who mistakenly thinks he has superpowers. I am excited to see how it ends up - there has been some pressure on the film as it is the first movie that has been overseen entirely by John Lasseter, who recently became head of Disney Pictures as well as Pixar Animation Studios.
Even though big names like Miley Cyrus are in the film, much of the success and hype about the movie has been attributed to the character of Rhino. According to the New York Times:
"[Chris] Williams said he auditioned several actors to voice Rhino (he's not naming names) but couldn't find anybody who performed the role better than his slightly peculiar colleague."
Interestingly enough, Rino is ending up being the star of the show, which is surprising knowing that John Travolta plays Bolt. Here is a really cute trailer featuring Rhino:
After watching that trailer I am excited to go see Bolt this weekend :)
page revision: 0, last edited: 21 Oct 2008 16:31