Bloglist
This page contains all my blogs from the whole semester. It is sorted in reverse order of the date that the blog entry was created.
Date Created
Title
03 Dec 2008 03:24
Blog: Unified Seperate Search Engines Tools
These tools combine the capabilities of many search engines into one interface.
24 Nov 2008 01:25
Blog: Video Searching for Movie Trailers
For following current events of Disney Pictures, it is really helpful to look at the trailers of upcoming films. However, some of the trailers that you would find on You Tube are not that great of quality. Sometimes, the film is not clear, choppy, and the audio makes it hard to understand. For this reason I strongly suggest moving away from You Tube for the purposes of this project.
05 Nov 2008 15:56
Blog:Custom Search Engines
One of the more awesome things that I have discovered while exploring the web is that you can design your own search engine. In reality, it still has to search through another established search engine, such as Google. However, you get to specify what URLs you would like it to focus on, which can be extremely helpful when you have a very specific topic that you need to search for.
03 Nov 2008 14:52
Blog:Presenting With Unique Images
Like most people, when I first sought to add images to my Wiki I looked through Google Images. If Google didn't have what I wanted, I would settle for something less than desirable. The problem with this is that not only do your presentations look unexceptional, but they tend to look just like all others. Because I wanted to see how I can make my presentation stand out, I spent this week exploring different kinds of image search tools.
22 Oct 2008 16:49
Blog:Page Monitoring
---
by Susan Kennedy (03 Dec 2008 03:24; last edited on 03 Dec 2008 05:49)
Unifying Separate Search Engines: Saving Time and Efficiency
These tools combine the capabilities of many search engines into one interface.
Typically, you enter a query, select what type of retrievals you want (i.e. "blogs" or "news" or "images") and then the tool will bring you to the results page. From here you can select which engine you want to look at the results from. Not all of these are like that (i.e. Fast Eagle) but that is the general concept behind them. They are designed to bring all of the results to you in one easy interface so that you don't have to go to each site individually. Likewise, it makes it really easy to compare and contrast sites so you can figure out the ones that you prefer.
I tried out the following sites based on "Walt Disney Pictures" related information. Some of them were definitely an asset…while others I don't think I will bother with in the future. Check my reviews out to see if they help you in your research:
---
Useful Tools:
For Joongel, I first entered the query Disney in the Blog search. Normally, under search engines like Google the only relevant retrievals I get are sites related to Disney's homepage. I then have to try query after query in order to get even mediocre sites. But with Joongel I was extremely surprised at the results. Four of the ten first retrievals were relevant (and I mean actually something I though was really valuable). That is ten times better than 90% of the searches I have done so far.
The best resource I found through Joongel was Disney Society which is a blend of all sorts of Disney current events with main emphasis on film. What is interesting is that it actually ended up being pulled out of Technorati, even though when I search Technorati exclusively I get nothing useful even after trying dozens of queries. The same thing for Google Blog Search. Until now, I have found searching for blogs very frustrating…I am really glad I found this.
As far as news search goes, Zuula isn't that much better than any of these other sites. The real advantage I found with Zuula was that you can specify which sites you would like the "blogs" to come from. This saves a ton of time. This is similar to Joongel, but with Zuula you can compare and contrast the Blogsites right next to each other (there are 9 different blog sources). This time, I was interested in looking more at the animated side of Disney. The query I chose was "disney pixar animation". Although there was lots of stuff to be found on all of the the different blog source tabs, virtually none were completely relevant.
I think I am gonna come back to Zuula for future queries. This one didn't work out, but I can see how much time it can save if you have the right query.
Not So Useful Tools…
Through Fast Eagle I searched through Forbes, Wall Street Journal, and Google. I kept the queries relatively basic, depending on the tool. For example, WSJ only lets you use the stock name "DIS." The results were either exclusively about Disney Corporation Stocks, other franchises of Disney, or altogether not relevant. The interface for Fast Eagle was not very helpful - it seemed as though you had to do most of the work yourself and didn't save you much more time than going to each site separately. I really don't recommend this tool over some of the other Unified Search Tools.
For
Kendrix
I though I would try a slightly different query than some of the others:
"walt disney pictures" Robert Iger"
. I thought the "Iger" would help specify the search and eliminate sites that only vaguely referred to Disney. This kind of helped…but not really. The only site that seemed somewhat helpful was this
Disney Enquirer
that was retrieved through the
"Yahoo" tab
. Sadly, this site really was a waste of time - it was all about the theme parks and taking trips. In general, I don't the problem is Kendrix. The problem is
Google
,
Yahoo
,
Ask
, and
Live
. They have never really been useful tools for me.
Soolve was not very helpful. I entered in "Walt" and already tons of different topics come up on the seven different search engines it pulls from. The one query that seemed most promising was "Walt Disney Pictures Wikis" which ended up going through Google. Some of the links looked promising. But most turned out to be a waste of time. The only one that was useful was Zimbio. Compared with some of these other Unified Search Tools, I really wouldn't waste your time if you are looking for Disney Pictures information.
With Search!O I tried, once again, to be more creative with my queries using disney iger pictures movies film. I then ended up using the the Clusty tab which was my preferred search of all the others. Even through Clusty, there was not much to work with. Even though there was relevant information, there weren't any documents that I hadn't already found. And the other tabs where many of the sites I had already searched through these other tools ( like Google) that had already proven themselves unhelpful.
These Results are Not Generalizable
These tools, at least the ones that I found to be useful, are a huge asset to my research. I will definitely use these tools over and over again. However, keep in mind that these are only what worked for my research on Walt Disney Pictures. This doesn't mean that it won't be useful for other purposes. Also, for many of these, my results may have improved quite a bit if I had a better query…but I suppose that is true with all search engines. But since you don't have endless amounts to search over all these search engines (there is more where they come from too) I suggest you start with Joongel and Zuula. If those don't work out for you then try a few of the others. Here are two more that I didn't even go into because I felt it would have gotten repetitive (just in case you are extremely bored):
Even if you don't use these for research these unified search tools can be very helpful. If you are ever doing a search where you think you will need to go to multiple search engines, these are definitely the tools for you.
---
by Susan Kennedy (24 Nov 2008 01:25; last edited on 08 Dec 2008 03:15)
Moving Away From You Tube
For following current events of Disney Pictures, it is really helpful to look at the trailers of upcoming films. However, some of the trailers that you would find on You Tube are not that great of quality. Sometimes, the film is not clear, choppy, and the audio makes it hard to understand. For this reason I strongly suggest moving away from You Tube for the purposes of this project.
In the same way, I have also been less than thrilled with the videos I have gotten from Google Video. For one, the query needs to be really, really specific in order to find something you can use. Then the retrievals are blend of useful and non-useful and rarely gives you any materials that encourage you to learn more about a subject you are unfamiliar with.
Even though You Tube and Google Video can be fine for recreational searching and the occasional exploration, in order to make your research on Disney Pictures as amazing as possible I want to present the most amazing search tool I have found yet….
Truveo
Truveo is a video-specific search tool, however, it can give you suggestions for PodCasts as well. Because users cannot upload videos themselves, the content that you get tends to be high quality. The
The Wall Street Journal calls it:
"…the best Web-wide video-search engine I've seen"
Even though I am not an expert, I completely agree. On my first visit, I entered the query Walt Disney Pictures. Thats not a very unique or specific query, but I wasn't quite sure what I wanted. Already, Truveo returned with a whole page of options. All of the retrievals were useful or interesting. And they were all trailers. While with You Tube, most of the retrievals were random useless stuff that users had uploaded. And what was awesome was that a lot of these trailers were for movies that I hadn't heard of yet that were coming out in 2009, 2010, or 2011.
The interface really has some phenomenal features:
You can explore the videos based on "top ranked,"most visited," "most recent….
You can RSS the video search
It also shows you IMDb video options on the right hand side (which can also be RSSed)
There are podcast and additional video options under "featured channels" at the bottom of the page
Under "more channels" it has tons of other videos from over ten other sites and shows you how many retrievals per site (showing how transparent Truveo is :) )
In the Future
Truveo isn't just a great way to find trailers. You can use it for finding professional and credible information as well. And almost all of it is at least a credible video, even if it isn't particularly useful. You never will feel like you are wasting your time at Truveo. In the future, I strongly recommend using Truveo for nearly all your media-related needs.
---
by Susan Kennedy (05 Nov 2008 15:56; last edited on 08 Dec 2008 05:11)
One of the more awesome things that I have discovered while exploring the web is that you can design your own search engine. In reality, it still has to search through another established search engine, such as Google. However, you get to specify what URLs you would like it to focus on, which can be extremely helpful when you have a very specific topic that you need to search for.
Walt Disney Pictures Search Engine
To set up my Walt Disney Film and Related Topics search engine, I first went to Google's Custom Search Engine Site. I then named it, specified key words, and added a few URLs to start with. I also added that I wanted the search engine to also search the broader web. If you do not want this, you do not have to add the feature; I just wanted to see if I would find more information from random sites. Then, Google makes the search engine and you can add some design features before adding it to your site.
Usefulness of a Custom Search Engine
To decide how useful I feel this could be for Disney research purposes, I decided to test out a few queries.
How to Make the Most of It
From what I gather, the way to make the most of a custom search engine is with diversity of URLs. As I continue to explore it, id like to add more URLs from blogs, scholarly sites, and educational sites. Likewise, it is crucial that you KNOW what you want to look for and have the best query that you can. Unfortunately, that just takes time, practice, and further research.
The Potential
Although right now I havn't found this site to be incredibly useful, I can see the potential. With a custom search engine, you can find information that you simply wouldn't via google, regardless of the query, simply because there is too much information out there. I am excited to continue to refine my URLs and queries and will continue to update you with my progress.
That being said, the one major downside of Google based search, is that it comes from Google. Google is a very powerful search engine. However, for our purposes, Google may not always have what we need. This is why it is important to use a diversity of web sites, most of which I discuss on this site. This is a very cool tool, but should by no means by the major asset of our research. For this reason I suggest you try it out, have fun, but make sure that you continue to use all the other tools that are out there :)
---
by Susan Kennedy (03 Nov 2008 14:52; last edited on 08 Dec 2008 05:11)
My Search for Unique Images
Like most people, when I first sought to add images to my Wiki I looked through Google Images. If Google didn't have what I wanted, I would settle for something less than desirable. The problem with this is that not only do your presentations look unexceptional, but they tend to look just like all others. Because I wanted to see how I can make my presentation stand out, I spent this week exploring different kinds of image search tools.
The Criteria
All of the image search tools that I explored I tested to see how useful they would be for looking at my particular project on Walt Disney Pictures. I then ranked them according to how useful I felt they would be. It should be noted that I ranked these sites subjectively and only within reference to how useful they were for finding images on Disney. This does not mean that they are not useful for other purposes :)
That being said, I based my criteria around ease of interface, filtering capabilities, quality of images, efficiency of site, ability to USE the images retrieved, and reliability of the search software.
The Rankings
(One being the highest)…Click on them to read my in depth analysis of each tool.
Why I Ranked Compfight Number One
Quality of Images
Firstly, because Compfight is search tool of Flickr, which is a private database, the images really are unique. They images that uses submitted themselves and are generally much more aesthetic than any images you find on Google. Here are a sample of some of the images of found through Compfight, using the query Disney:
Flickr Works Easy with Wiki Sites
It is very easy to use public Flickr images in your wiki. Once you find an image on Compfight (or Flickr), click "All Sizes" and then copy the url. When you using the image wizard in wiki, you simply have to select the "Flickr" bullet and then copy and paste the url of the image that you selected.
The only problem is that you do not have as much control over sizing as you would think. On compfight, you can select which size you would like (from a small square to a large size). However, the wiki image wizard doesn't use the specific image size URL. Therefore, even though you selected "thumbnail" size, you may get a slightly larger image. This can get frustrating when you can't use an image simply because it is too large :(
The interface
Compfights interface was extremely easy to use. It wasn't necessary have a very specific query in order to get images I could use, which is why I didn't the filtering options that Google and Ask need.
Likewise, the images are displayed very clearly against one other so you can get a very clear idea of how an image looks before you have to click on it. Likewise, for all public images you can run your mouse over it in order to get the dimensions of the original image.
It Will Always Depend
Although my rankings are what I said NOW, that doesn't mean I will not change this based on need. It is hard to know how badly you could use a tool until you actually need it. Therefore, I suggest you make your self somewhat aware of all of these tools so when that time comes around you can take advantage of what is out there :)
---
by Susan Kennedy (22 Oct 2008 16:49; last edited on 22 Oct 2008 16:49)
---
by Susan Kennedy (17 Oct 2008 23:16; last edited on 08 Dec 2008 07:01)
Some sites, for whatever reasons, don't have an RSS feature that allows you to receive updates through your blogroll. This can became inconvenient when you want to see if a site has changed without having to spend the time to check the site frequently. To get around this, you can use email alerts. Email alerts allow you receive updates in your inbox whenever a site has changed.
Email Alerts
You can get updates via email in several different ways. The ways that I have experimented with have been through Google Alerts, Yahoo Alerts, and GoogleAlert (which is a separate company from Google). All of these three involve signing into an in account in order use them.
Google Alerts
Google alerts allows you to search very specific items and send them to your email. Likewise, you can specify how frequently you wish to receive updates, which can make it much less overwhelming when you receive updates from hundreds of sites. Although Google has a lot of resources, I found Google Alerts to not be very helpful for helping you develop your query if you did not know what you wished to specifically receive information about. Therefore, I recommend refining your query through Google before using it in Google Alerts.
Yahoo Alerts
I personally did not find Yahoo Alerts very helpful for my particular research. However, for more general purposes, such as "Market Updates," it can be a useful service. The interface has a menu of choices that you can choose from. Then it is relatively easy to select the desired alert and watch its progresses on Yahoo. The problem is that if you have a search topic other outside their menu options, it can be very unhelpful.
Google Alert

Google Alert is a separate company from Google, which searches only Google documents. Google alert I found to be the most useful for conducting specific and originally research. However, to make the most of it, I found I needed to use the "Advanced Search" option. Even with this feature, though, there can be dozens of retrievals. Therefore, you really need to know what you want before query. Otherwise, you will get so many retrievals that you really won't be able to get much use out of them.
Making the Most of Email Alerts
The key takeaways I found with email alerts was that you have to spend a little extra energy before you begin to make sure that you email alerts are useful instead of an inconvenience.
Having a specific and useful query is key-otherwise the email alerts wont be relevant and will overwhelm your mailbox
Likewise, if you have Yahoo or Google email accounts, you should set you email that your alerts go to so that they go directly to your folder. For example, you want all your alerts about [Market Updates] to go to a folder, you can add the name of your folder into your email address so that it doesn't go the main inbox.
Where To Go From Here
I highly recommend email alerts for topics that you want to be informed about but don't have the time to track manually. I also recommend Google Alert, of all the tools I tried, even though you have probably never used it before. However, I am slightly disappointed that it isn't more strait forward how to filter your email alerts that you will receive before they actually are sent. Currently, you type your query and then they send you emails without you having much say in the ones that are sent initially. This is not to say that you can't edit them later. But it would be nice to filter them initially. Likewise, I would appreciate if they allowed you to send emails to a specific folder through university email accounts, for those of us that just are somewhat old fashioned and use our university email accounts.
On the whole, though, I found this new tool really exciting. It allows another way for you to make the most of the web without having to spend endless amounts of time searching and checking up on sites. You should definitely try it the next time you find a site that you like that doesn't have RSS feeds.
---
by Susan Kennedy (11 Oct 2008 04:40; last edited on 28 Nov 2008 22:07)
Google Can't Pick Up Everything
I was surprised to learn that if you can't find something on Google, that it doesn't mean it doesn't exist. There is apparently a significantly larger portion of data that exists beyond what Google and other dominant search engines can pick up.
These documents that are unquery-able from main search engines make up "The Deep Web" and consist of about:
20-100 billion documents
250 queryable databases
7,500 terabytes of data
(keep in mind that these are very approximate)
The reason why Google and other main search engines that are unable to gain access to the Deep Web is because Google's "spiders" cannot track certain kinds of pages, such as proprietary pages, flash pages, and real time information.
Most of the Deep Web consists of academic journals, which is why I am so surprised that I hadn't known of the search engines that get gain access to these sites sooner. I am excited to know that for future research, I can use alternative search engines to explore parts of the web that I had never before been able to.
Why It Is Time To Branch Out
Thus far, whenever I had "serious" research to do, I would feel very clever by using specialized tools, such as Google Scholar or JStor. Jstor works well if you have access to it and have a certain specific resources that need retrieval, such as history of art journals. But for more general and free of charge searches, I always assumed Google Scholar was sufficient enough, especially because I had no other tools to compare it to.
Google Scholar has some useful features, such as full text of books, multiple languages, and library link options to your school's library with every retrieval. However, it also has some huge drawbacks that make it an altogether ineffective search engine. For one, it has huge coverage gaps and Google makes it impossible to know what kind of coverage is being left out. There is no feature on the interface that reveals where the coverage comes from, such as a feature that reveals whether the retrievals that are journals, articles, or books. Likewise, Google prevents you from knowing what sources they pool from, which prevents you from knowing how reliable your retrievals might be. It does not retrieve documents through Google Scholar the way it does through the general Google Search, which makes it very inconsistent to get the same results with similar queries.
I was quite surprised to learn exactly how much information and possible resources Google Scholar leaves out and why it is not acceptable when you need to come up with credible and reliable sources for research. I had no idea that there were search engines that could provide comprehensive, integrated, and transparent results that reveal exactly where the information is coming from. I also didn't realize how many other search engines had interfaces that could be easier on the eyes and easier to follow.
For searching the Deep Web, here are some of the sites that I explored as an alternative to Google Scholar:
Making New Friends
Turbo10
One of the main advantages of Turbo10 is its search clusters. Once you search for one general term, Turbo10 will help you refine your search by having clusters that you can select in order to narrow it down. I found this extremely helpful as I rarely know exactly what I am looking for. When I am in the early stages of research, the clusters help me explore what related topics I can search for within my broader search. Likewise, you can select which search engines you want to utilize if that will increase the relevance of the search.
I also like the interface of Turbo10 compared to other basic search engines. It is much simpler (with only about 5 retrievals per page), as well as a small graphic to give you an idea what the site looks like before you click on it. This helps you save time and quickly see whether or not the site might be useful.
Scirus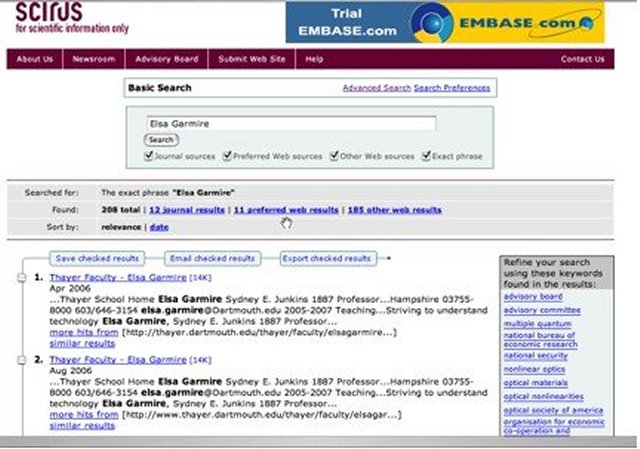 Scirus has by far the most transparent of these specialized search engines. Their About Us section of their page reveals all of the other databases where they pull from, which Google does not have. This allows viewers to get a clear analysis of the credibility and quality of the results, as well as signal to the viewers what Scirus has and what they don't have.
Scirus maintains this transparency for each query by showing which numbers of retrievals fall into the categories of: "journals," "preferred web," or "other web." Likewise, they show what types of pages have been retrieved: html, pdf, or word. This helps you quickly evaluate what kind of results are coming back and whether or not you need to rethink your query or how far into the documents you should look before trying again.
With the sorting and post-query features, I honestly felt like Scirus was able to tell me what I was thinking. The topic pages connected with Scirus really help you narrow down you search, which has been very beneficial for my beginning stages of research projects. Although Scirus does not have the most aesthetic of interfaces, it probably has the easiest interface to navigate.
Librarian's Internet Index
Librarian's Internet Index had my favorite interface compared with all of the other alternative Deep Web search engines. On the front page, it allows you to pick general search categories if you are having trouble getting started.
The results themselves for Librarian's Internet Index are much fewer in number than most sites, making the search process seem less overwhelming. For example, when I searched for "cookies,"
it only came back with 31 retrievals, compared with the 3,256,355 retrievals that came back for Scirus.
The only disadvantage I found with Librarian's Internet Index was that it didn't state where the sources where coming from; the query results page didn't have feature that showed how many of the sites were journals or other formats.
BNet
I was excited to find out about BNet, especially because so many of my research projects are related to business.
I found BNet's interface to be very impressive and strait forward. Whenever you searched for something, it showed where the content came from on the right hand side. Likewise, I can see how the discussion thread that follows every piece can be very useful to hear the perspectives of "everyday" users.
Other helpful features on BNet I liked were:
The Business Library Topics (on the lower left hand side of each of the headings on the main page)
The featured articles for every heading
The Video Library
For someone who has trouble keeping up with current events, this seems like a great site to follow current issues with the economy.
The Bottom Line
Although it will be impossible to cut out Google from your life entirely, I am hoping that this blog will encourage you to branch out a little bit. Although all of the sites mentioned above have a pros and cons depending on your needs, they will generally work 100 times better than Google Scholar will for conducting research. They should raise your standards from what you expect out of a search engine! These search tools are so helpful that they might inspire you to learn about things that you don't even need to know, just because its so much easier to find information :)
---
by Susan Kennedy (06 Oct 2008 04:50; last edited on 04 Dec 2008 22:54)
How to Get the Most out of a Search for News
I was pleasantly surprised when I discovered exactly how little I actually knew about searching for news on the web.
I figured, like most, that simply trial and error through basic Google was the only way to find what you wanted. Although I rarely was satisfied with this, it didn't occur to me that there were easy, efficient, and effective ways of not only finding information on a current topics, but on the past topics, and it was possible to learn even further with links to additional resources.
The Advantages of Using a Web Search Engine
What is awesome about using a news search over a basic general search engine is that the computer is already doing as much work as possible in order to save you time. The specialized searches have higher response time, higher relevance of retrievals, higher speed of updating new sources, and will critically evaluate the quality of the sources. Basically, the tools are out there…its just your job to take advantage.
Some of the News Search Engines
The news search engines that I explored (which are merely a small sample of many options) were Yahoo! News, Google News and Alta Vista. Although all three on the whole made my search process easier, with features such as ranking, sorting, RSS feeds, categorization, and photos, each has different strengths.
Google News offers tons of options for refining and improving your news search, to the point that it is borderline overwhelming and excessive (especially if you are not used to it).
Advanced Search
With Google News, it can be very helpful to use the advance search in order to sort by date, source, and price (which can be set to free).
The Time Line !!
What was probably the coolest thing I found on any of these news search engines was the time line feature of Google News. The timeline (which is located toward the top of the left hand side of the page, above the date section) allows you to see how this topic has been covered over the past X amount years, which will vary depending on how recent the topic is. The timeline can be adjusted in order to zoom on years or months, depending on your needs.
It should be noted, however, that the timeline does not always cover NEWS that reported at date X, but it is referring to significant dates that happened to be mentioned in other news articles. In order to find news that actually is about that point in time, it may involve a much complicated search.
Personalization
If you have an iGoogle account, it can be very nice to personalize your page. I personally set mine to show all top news stories as images, which makes it much more pleasing to the eyes for me. Likewise, I edited the news stories that pop so that ones that I find irrelevant (such sports — jk :) ) are not on the home page.
Yahoo! News I found to be the most difficult to use of the three news search engines, mainly because of its interface. This is NOT to say that it doesn't have some very useful features.
Sorting
Yahoo allows you to sort during your initial query in order to specify what kind of news you would like. For example, you can get video news, audio news, photo news, or any kind of news, which is "all news."
This is cool when you want to learn about a current event but don't feel like reading a four page essay.
Links to Other Places on the Web
These are located on the right hand side of the page, after you have specified what you are looking for. This pretty cool when you want to learn more that is from a slightly different and maybe more educational angle. Already I can tell I will be able to use this for future class assignments.
Local News Papers
One thing I found extremely cool about Yahoo was that you can find political stories from local news papers. Although this is general not that useful if you are doing research for school, this can be very fun to do if you want to stay current with your hometown or want to see if you siblings are in trouble again :)
This can be found by looking in the subtopics underneath the topics that are already in the main tabs, such as "politics" and "business."
Easy and Strait Forward
Although Alta Vista has the least impressive interface, it was probably the simplest and most strait forward of the search engines I evaluated.
It was very convenient and easy to sort through queries based on topics, regions, and the timing of the news article.
Additionally, I appreciated the suggested search tips.
The Bottom Line
Although it seems that it would take more time than its worth to go to a news search engine, I promise it is worth it. It is a better use of your time, which you probably have little to spare, and once you get used to it you might actually like reading the news :)
I personally am not a regular news person, but since I was introduced to Google News, I have started to check the site pretty much daily. Although, I've gotta be honest, its mainly just to play around with the time line ;)
---
by Susan Kennedy (24 Sep 2008 13:58; last edited on 08 Dec 2008 07:02)
Learning to Search Effectively
Prior to learning specific search techniques, I had no idea that all queries were not created equal. I used to think that the only way to search was by typing in a word or a phrase and if nothing relevant came back then I should try a different word or phrase. I also assumed that if nothing was relevant in the first 5 retrievals than nothing else found would be relevant either. I was surprised at how this is not necessarily true and with a little bit of effort and practice, searching the web can become much easier, efficient, and much less frustrating.
Increasing Precision
Although it seems like common sense, one of the challenges of creating an effective query is to be extremely specific and use unique words. I always find this challenging when I don't know what I am searching for. That is why I found it very useful to learn how to narrow down a search.
For example, if you want to find hair salons in Ann Arbor, you could add specific phrases such as "48104" or "campus" or "downtown Ann Arbor" in order to eliminate hair salons from nearby cities.
So far some of the techniques that I found most useful have been…
Using quotes is the only way to make sure that the entire phrase is intact in the retrieved documents
Typing inurl: gov (or html or com or org) for when I want to narrow down my search to just educational websites or just government websites…
Typing intitle:— (or allintitle: for a phrase) for when I specifically need a document to come back with that word or phrase in the title. This increases the probability that the retrieved documents will be relevant.
Typing - before a word (which means minus or not) *no space!*
for when I want documents that have specific words in them to be left out of the retrieved documents.
For example, if I don't want any documents that that involve gossip news, I would type '-gossip' into the query along with my original search.
As I continue to practice I will keep updating this list!
Using Search Engines
Likewise, I had no idea that different search engines have different strengths and that there are many benefits to utilizing search engines other than Google. After some experimenting with different search, I was surprised to find that Yahoo Web generally had more relevant results than Google. On the other hand, a search engine I hardly ever use Live Search I rarely found to be helpful. It should be noted that much of the effectiveness of a search could come from the query. I noticed that if I put a non-specific query, I general got non-specific results back.
Searching for Blogs
In general, I am not regular blogger or user of blogs, simply because many of them I do not find particularly useful for my interests. After learning more about blog-search-specific techniques and search engines, I am more inspired to follow blogs. Search engines that I have found useful were Google Blog Search and Bloglines. I did not find Technorati to be very useful for my particular queries, but I would image that it may be useful for more political and business oriented queries. As with a web search, I found that the more effective the query the more effective the results, regardless of the blog search engine. I found it most useful to not use many words in a blog query. One particular technique I found helpful was that if you want to broaden you search adding a dash to between two words with no spaces (i.e. celebrities-news), this will allow for sites that have both celebrities and celebrity news in the content of the blog.
---
by Susan Kennedy (15 Sep 2008 05:13; last edited on 15 Sep 2008 05:13)
YAYAYAY I LOVE BLOGGING :)
page revision: 2, last edited: 08 Dec 2008 05:10